We provide comprehensive smart collection and return solutions. Our superpowers are our technical edge and our experience with customised integrations for customers.
Smart parcel lockers and system integrations to meet your precise needs
Use Smartbox to supplement your online store or other service. We are a partner to software agencies and service providers, responsible for comprehensive software expertise and dozens of successful integrations – using smart solutions customised for each specific customer.
We bring together effective solutions and the best customer experience. Smartbox frees up the customer's resources for core tasks and business development.
How does it work?
1 You agree with the customer when the product will be available for pick-up from the Smartbox.
2 The product is left in the locker.
3 The customer receives the unlock code as a text message and can pick up the product when it suits them.
4 Information about collection by the customer is updated on a log which the service provider can monitor using the Smartbox Cloud.
5 A reminder can be sent to the customer via the Smartbox Cloud.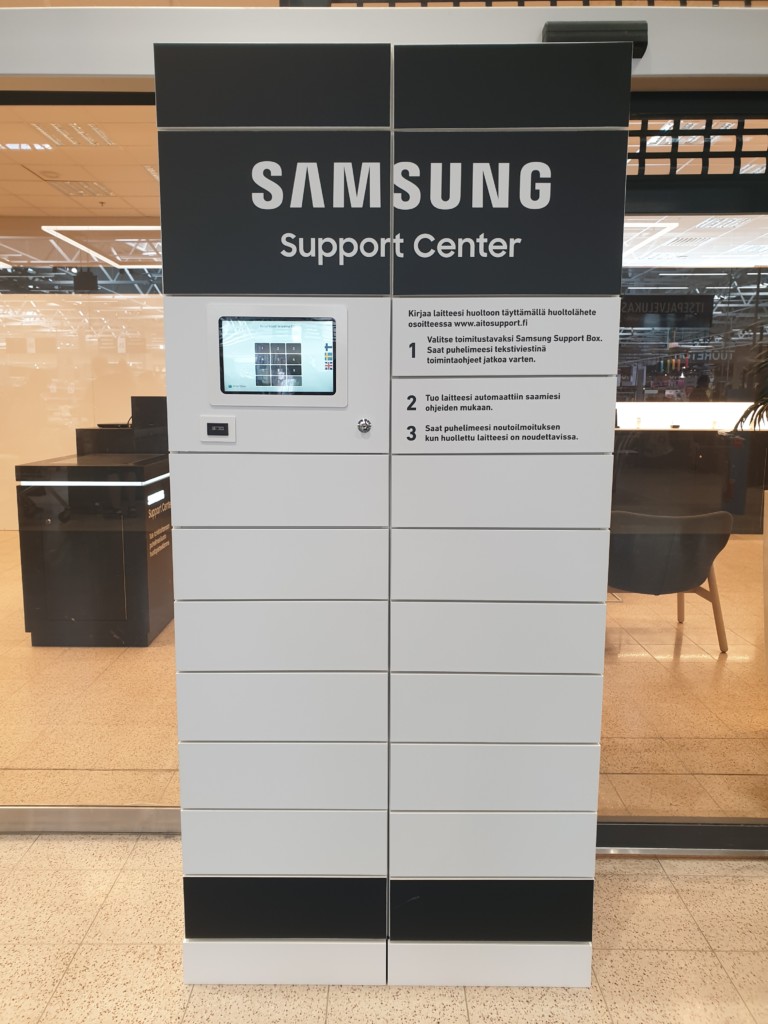 Our new solution – Smartbox Mobile
Improves operational efficiency | Enables add-on sales | Increases customer satisfaction
"Smartbox enables our customers to pick up their online purchases also outside of pharmacy service hours."
Laura Tuovinen
Pharmacist
"Our customers appreciate easy-to-use products and services, and Smartbox ticks both boxes."
Minna Liljamo
Pharmacist
"Offering our customers simple and secure pickup solutions that meet their schedules has improved our customer satisfaction scores."
Henna Luukkonen
Finnish Care Supply Distribution
"By placing Smartbox in a public open space, we're now able to serve our customers 24/7."
Heli Heikkinen
Finnish Care Supply Distribution
"Thanks to Smartbox, we're now able to offer our customers a no-queuing-necessary pick-up service for pre-ordered, customised printed products also outside of normal service hours. This is especially appreciated by our construction industry customers, who start their working days very early."
Petri Raanoja
Production Manager, Grano
"Our hardware store customers appreciate the convenience that Smartbox offers."
K-Rauta Lanterna
Helsinki
Smartbox pick-up lockers were originally developed in cooperation with Finnish pharmacies to especially cater to the needs of…
Lue lisää »
The Intersport sports store Karisma located in Lahti, Finland, introduced the Smartbox parcel locker in the spring of…
Lue lisää »
Ask us for a free capacity need and
service level need consultation!
We offer a variety of ready-made solutions, customised solutions and integrated solutions, which can all be later extended for more locker space and paired with different services.
Smartbox, a new and innovative solution provider
an agile developer that understands customers' needs
a decade of experience and competitive edge in software solutionsNumerous lockers installed
continuously develops its services and technology
references from top companies in a range of industries
Contact us
Further info and quotes
Satu Niemelä
satu.niemela@smartbox.fi
+358 40 536 3486